Shopping Cart
Your Cart is Empty
There was an error with PayPal
Click here to try again
Thank you for your business!
You should be receiving an order confirmation from Paypal shortly.
Exit Shopping Cart
| | |
| --- | --- |
| Posted on September 11, 2013 at 2:41 PM | |
Fritz Ale to jeden z niemieckich browarów kontraktowych. Czyli browar bez własnych instalacji, korzystający z instalacji innego browaru i wypuszczający na rynek piwa o własnej i niepowtarzalnej recepturze. Fritz to wieloletni piwowar domowy pochodzący z Bonn, który jak wielu innych piwowarów od dawna marzył o tym, żeby ze swoim piwem wypłynąć na szersze niż domowe wody. Z racji, że własny browar to nie lada inwestycja, wielu piwowarów domowych decyduje się na wynajęcie któregoś z małych przemysłowych browarów i gościnnie warzy piwa według swoich własnych receptur w nieco większych ilościach niż domowe 20 czy 50L. Piwa takie nie trafiają do wielkich marketów czy do osiedlowych sklepów. Kupić je można tylko w dobrych piwotekach i oczywiście również i w internecie. Style piw warzonych w browarach kontraktowych zwykle znacznie różnią się od utartych i przyjętych trendów. Często są to piwa absolutnie nieznane typowemu piwoszowi i skierowane do wąskiego grona piwnych fanatyków :) Piwo trafiło więc w dobre ręce.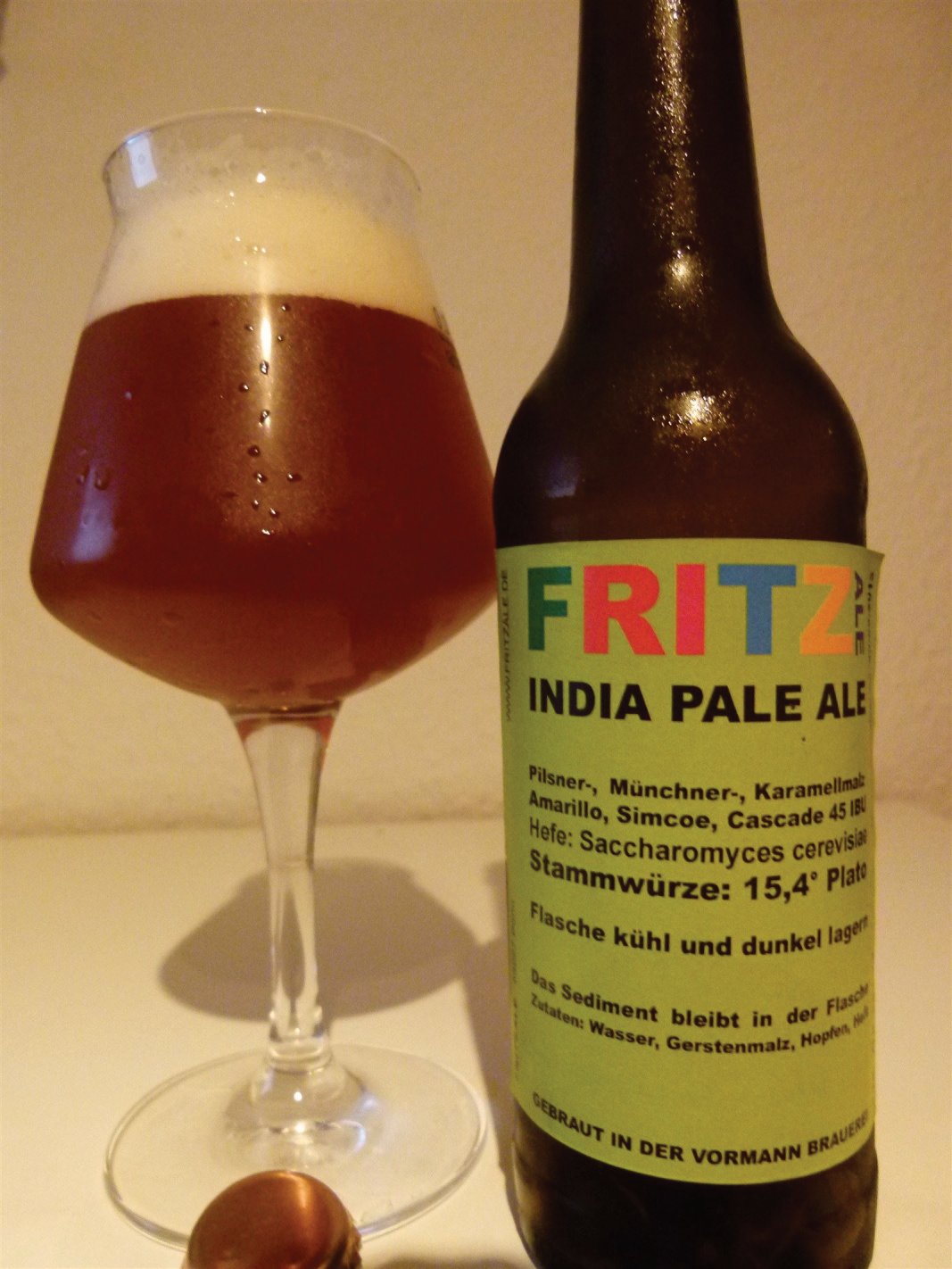 Etykiety z browaru Fritz Ale już na pierwszy rzut oka kojarzą się z piwami domowymi. Żadnych zbędnych malowideł, bez przepychu, po prostu krótka ale treściwa informacja o tym z jakim piwem mamy do czynienia. Na etykiecie podano pełen skład piwa (wyszczególniono użyte słody, chmiele i nawet szczep drożdży) oraz podano informacje o ekstrakcie, alkoholu i sposobie przechowywania. Podano też co ważne miejsce produkcji: Vormann Brauerei który leży ponad 100km od Bonn.
Piwo spełniło pokładane w nim oczekiwania. Zapach piękny tropikalny, można poczuć się jak na bezludnej wyspie, mango, ananas, a wszystko to pochodzi od chmielu z nowego świata. Barwa pomarańczowo-rubinowa, mętna i właściwie nieprzejrzysta, piana drobnopęcherzykowa, oblepiająca szkło. W smaku mocna słodowo-karmelowa podstawa, delikatna tropikalne owoce jak w zapachu i silna przyjemna goryczka z lekko cytrusową nutą, wszystko to z odpowiednim dla stylu nagazowaniem. Bardzo przyjemne piwo. Będę polował na kolejne piwa z tego browarku.
Categories: None
/