Shopping Cart
Your Cart is Empty
There was an error with PayPal
Click here to try again
Thank you for your business!
You should be receiving an order confirmation from Paypal shortly.
Exit Shopping Cart
| | |
| --- | --- |
| Posted on August 18, 2013 at 6:15 AM | |
Nie okłamujmy się nie często piję polskie piwa z browarów przemysłowych. Będąc w Poznaniu kupuję raczej piwa z browarów rzemieślniczych czyli malutkich, reprezentujących raczej piwną rewolucję, a nie znane wszystkim nurty.
Kormoran leży chyba gdzieś pomiędzy browarem przemysłowym a rzemieślniczym, z przewagą na to pierwsze.
Ale czy piwną rewolucją nie jest piwo z dodatkiem czosnku?
Browar Kormoran z Olsztyna założony został w 1993 roku. Moce produkcyjne browaru to ok. 50.000 hl czyli raczej dolna półka niezrzeszonych browarów przemysłowych w Polsce. Browar jest wielkością porównywalny do znanego poznaniakom browaru w Czarnkowie, a o ponad 150 razy mniejszy od największego polskiego browaru - tego w Tychach.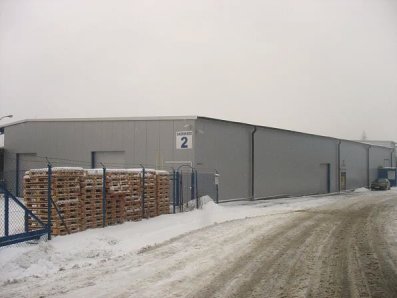 Zastanawiałem się dlaczego browar Kormoran na swojej stronie internetowej pokazuje tradycyjne szkice o piwowarstwie, a nie zamieszcza zdjęć browaru. Z pomocą przyszedł niezawodny portal browar.biz. Okazuje się ze Kormoran z wyglądu nie przypomina zbytnio browaru, przypomina raczej hale fabryczną. 
Nie zmienia to jednak faktu ze browar Kormoran jest browarem małym, warzącym z naturalnych surowców i produkującym piwo dla smakoszy a nie dla piwożłopów.
źródło: browar.biz (foto: pebejot)
W swoim portfolio Kormoran ma obecnie 26 rożnych piw w tym całkiem ciekawe pozycje jak American India Pale Ale, Weizenbock, Marcowe czy Porter Warmiński. 
Dla mnie wybrano jednak Orkiszowe z Czosnkiem, które już od kilku dni patrzy na mnie z lodówki i zachęca mnie do wypicia. Siłę przebicia ma jednak słabą i głównie dlatego żeby już nie musieć na nie patrzeć, z ogromnym strachem spróbuję je dzisiaj wypić.
Rano byłem w kościele, a że Bóg kazał się dzielić, podzielę się tym zacnym trunkiem z żoną i to nie tak jak zwykle, że dam małżonce łyka, ale specjalnie dla niej z miłości wyjmę z szafki drugą szklaneczkę :) w końcu ślubowała niedawno, że będzie przy mnie i w czasach dobrych i złych.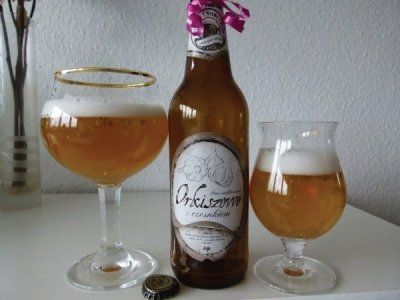 Już sekundę po otwarciu w nozdrza uderza silny, drapiący i zmieszany z piwskiem  zapach czosnku. Mniej więcej taki jak niektórzy z was mogą poczuć jadąc w sobotę rano do pracy i w tramwaju natrafiając na ekipę wracającą z imprezy. Ekipę, która po drodze zahaczyła o Tej Burgera z dużą dawką wiadomego sosu. Myślę sobie "dlaczego ja?". Już sekundę po otwarciu wiem, że to piwo nigdy, ale to przenigdy nie powinno być otwierane. Ale jak tu nie otworzyć ślubnego prezentu?
Z mocno skrzywioną miną nalewam piwo do szklanek.
barwa: lekko mętne złoto
piana: szybko znika, zostawia pierścień i wysepki
zapach: masakryczny czosnek z piwem, przypominają się najgorsze wspomnienia z czasów studenckich :) ... a także zapach mojego kolegi (Małysza) gdy poszedł do knajpy chory aplikując sobie wcześniej dawkę czosnku na poprawę zdrowia.
smak: jest lepszy niż zapach, ale ciągle w głowie słychać "dlaczego ja?". Jak można to piwo pić dobrowolnie?
Wypiłem zawartość tej większej szklanki. Marketa poległa przy małej... ja nie chciałem jej pomóc.
A teraz przyznać się - kto był darczyńcą? Muszę przecież wiedzieć kogo przy odwiedzinach poczęstuję nowym egzemplarzem Orkiszowego z Czosnkiem. Jak się nie przyznacie albo nie nakablujecie to kupię całą skrzynkę i będę częstować wszystkich gości!

Categories: None
/